Mud Dragon

"Sometimes mistakenly described as chubby or lazy, but we happen to know that Mud Dragons are on a strict organic mud diet and they only enjoy an occasional fly when it lands in their mouth."

Level Unlocked:

When you get both Earth and Water.

Element(s):

Attack(s):

Flying Kick, Tsunami, Earthquake, Flooding.

Weakness(s):

Habitat(s):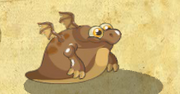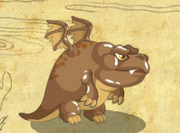 Getting Mud Dragon
Edit
The easiest way to obtain this dragon is by breeding Water and Earth dragons in the Breeding Mountain.
Ad blocker interference detected!
Wikia is a free-to-use site that makes money from advertising. We have a modified experience for viewers using ad blockers

Wikia is not accessible if you've made further modifications. Remove the custom ad blocker rule(s) and the page will load as expected.