Fire Dragon

"If you can't take the heat, stay away from the Fire Dragon! This temperamental creature is easily set off, but calms down equally fast and always feels deep remorse for the things it burned."

Level Unlocked:

2

Element(s):

Attack(s):

Punch, Flaming Arrows, Lava Balls, Nuclear Hit.

Weakness(s):

Habitat: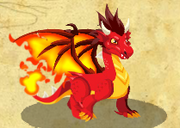 Ad blocker interference detected!
Wikia is a free-to-use site that makes money from advertising. We have a modified experience for viewers using ad blockers

Wikia is not accessible if you've made further modifications. Remove the custom ad blocker rule(s) and the page will load as expected.