Electric Dragon

"The tale tells us this dragon was born in a great storm that took place in the dark ages when an ordinary dragon got hit by a lightning. Since that day, you can see them on the skies, looking for a shock."

Level Unlocked:

10

Element(s):

Attack(s):

Punch, Stunning Hit, Lightning, Laser Beam

Weakness(s):

Habitat(s):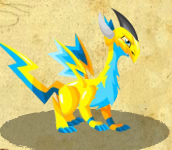 Ad blocker interference detected!
Wikia is a free-to-use site that makes money from advertising. We have a modified experience for viewers using ad blockers

Wikia is not accessible if you've made further modifications. Remove the custom ad blocker rule(s) and the page will load as expected.