Dragons are the main focus of the game. Your breed, raise, feed, and collect from them. You try and get as many breeds as you can. You also want to make them powerful so you can win in battle.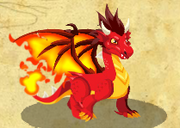 Some of the dragon such as Poo poo dragon has three habitat!
I love the poo poo
Pages in category "Dragon"
The following 7 pages are in this category, out of 7 total.
Ad blocker interference detected!
Wikia is a free-to-use site that makes money from advertising. We have a modified experience for viewers using ad blockers

Wikia is not accessible if you've made further modifications. Remove the custom ad blocker rule(s) and the page will load as expected.